About the Area (Mt. Vernon, OH)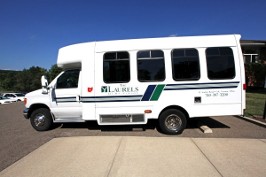 The Laurels of Mt. Vernon is nestled in a beautiful, scenic, historic bed and breakfast community. It offers a peaceful setting, with close access to State Routes 3, 13, 36, and 229. Though the community is surrounded by rolling hills and farmlands, it is conveniently situated near multiple hotels, churches, shopping areas, parks, golf courses, horseback riding trails, bike and hiking trails, restaurants, colleges, libraries, and senior centers.
Knox County is well known for its bubbling streams, picturesque lakes, spectacular natural habitats, and an abundant variety of wildlife, which offers opportunities for people of all ages and interests.
Hospitals:
Areas of Interest: