The Laurels of Mt. Vernon Staff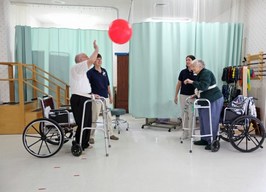 What differentiates one skilled nursing & rehabilitation center from another? The answer is... the people who work and reside there! The people set the tone, the atmosphere, and the expectations. At The Laurels of Mt. Vernon, we take great pride in ensuring that everyone feels like part of our family, and that they are treated as special "guests" in our home.
The Laurels of Mt. Vernon employs a team of highly qualified medical professionals, including a Medical Director, Registered Nurses, Restorative Care Nurses, a Wound Care Nurse, state tested Certified Nursing Assistants, Physical Therapists, Occupational Therapists, and a Speech Therapist. Our on-site Rehab, Dietary, Social Work, and Activities departments provide personalized and compassionate care to each guest. From the moment you walk through the front doors, the warmth and caring of the staff will begin to gain your trust and confidence, as they strive to exceed your expectations.
Unlike other facilities that use "contracted" staff members, each member of the team at The Laurels of Mt. Vernon is directly employed, not "contracted". Each Team Member takes great pride in portraying "The Laurel Way of Caring", as they strive for excellence in providing only the highest standard of care and services to every guest, and to every family member and visitor. Come on in! Visit a while! Let us show you our very best... let us show you The Laurel Way.
Stefanie Hayes, NHA, Administrator
Stefanie graduated from Ashland University with a Bachelor of Science Degree in Integrated Mathematics. She then received her Master of Art Degree from Kent State University in Sport and Recreation Administration. After graduating from Kent State, Stefanie relocated to Columbus with her husband, Jeremy, and began working at The Laurels of Worthington as the Activity Director. While at The Laurels of Worthington, Stefanie completed her Administrator-in-Training under Kristine Provan. Stefanie has been a Licensed Nursing Home Administrator since 2010. Stefanie lives with her husband and son in Westerville.
Deb Curran, Director of Marketing
Deb is a lifelong resident of Knox County. She graduated from Knox County School of Practical Nursing in 1988. Deb started her career working in long-term care at a center focusing in Alzheimer Disease and Dementia care. Deb has worked in long-term care for over 25 years in a variety of positions including floor nurse, nurse manager, Director of an Assisted Living, and Director of Marketing. Deb also taught Nurse Aide Training for several years. Deb enjoys being involved in the community, she is a member of Kiwanis, the steering committee of the Safety Council and the Career Technical Advisory Committee for the Health Technology program at the Career Center. Deb is also a member of the Presbyterian Church where she has served as an Elder for the past 5 years. However, Deb's true joy is being the mother of Megan and Tyler and the 'NaNa' of Tucker.
Linda Pfizenmayer, RN, Director of Nursing
Linda Pfizenmayer joined The Laurels of Mt. Vernon in the fall of 2014. She graduated from NCTC college with her RN in 1981. After graduation, she worked at Med Central Hospital in Mansfield in the Neuro ICU. She started in skilled nursing in 1990 as a Director of Nursing. During her 24 years in skilled nursing, Linda has served in the roles of Director of Nursing, Regional Quality Assurance Nurse and most recently worked at Med Central Home Health prior to joining The Laurels. Linda is a member of Lexington Presbyterian Church and enjoys gardening and spending time with her 5 grandchildren.
Shannon Ponko, Rehabilitation Services Director
Shannon is a 2006 graduate of Brown Mackie College in Fort Wayne, Indiana. She graduated with an Associate's Degree in Occupational Therapy. Shannon also graduated with an Associate's Degree in Medical Assisting from Ivy Tech College in Fort Wayne, Indiana. She has worked with inpatients and outpatients ranging from pediatric to geriatric populations. Her specialties include Myofascial Release, Lymphedema, Physical Agent Modalities, Kinesio-taping, and wheelchair positioning. Shannon has been employed by Laurel Health Care Company since 2006 and is currently the Rehabilitation Services Director at The Laurels of Mount Vernon.