The Laurels of Mt. Vernon Staff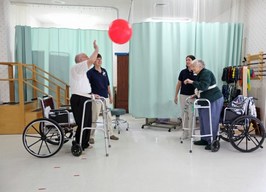 What differentiates one skilled nursing & rehabilitation center from another? The answer is... the people who work and reside there! The people set the tone, the atmosphere, and the expectations. At The Laurels of Mt. Vernon, we take great pride in ensuring that everyone feels like part of our family, and that they are treated as special "guests" in our home.
The Laurels of Mt. Vernon employs a team of highly qualified medical professionals, including a Medical Director, Registered Nurses, Restorative Care Nurses, a Wound Care Nurse, state tested Certified Nursing Assistants, Physical Therapists, Occupational Therapists, and a Speech Therapist. Our on-site Rehab, Dietary, Social Work, and Activities departments provide personalized and compassionate care to each guest. From the moment you walk through the front doors, the warmth and caring of the staff will begin to gain your trust and confidence, as they strive to exceed your expectations.
Unlike other facilities that use "contracted" staff members, each member of the team at The Laurels of Mt. Vernon is directly employed, not "contracted". Each Team Member takes great pride in portraying "The Laurel Way of Caring", as they strive for excellence in providing only the highest standard of care and services to every guest, and to every family member and visitor. Come on in! Visit a while! Let us show you our very best... let us show you The Laurel Way.
Hayley Simpson, LHNA, Administrator
Hayley graduated from Ohio University with a degree in Healthcare Administration and Business Administration with a specialty in Gerontology. After working in a hospital system in Chicago, Hayley moved back to Ohio in 2009 to begin a career in long term care and skilled nursing. Hayley has worked with Laurel Health Care Company previously as the Administrator of a Laurel building in the Columbus area, but is excited to join The Laurels of Mount Vernon. Hayley resides in Columbus with her husband and small children and enjoys spending free time with family and friends.
Curtis Farlee, Director of Marketing
Curtis grew up in Knox County and graduated from The University of Toledo with a Bachelor of Business Administration. After graduation Curtis moved north of Detroit to pursue his career in Marketing which has been his passion for the last 10 years. Curtis has been involved in the healthcare industry for the past 3 years in Knox County. Curtis enjoys being involved in the community, he is a member of Kiwanis, The Task Force for Older Adults, he delivers meals to the senior centers and the fire department in Knox County. Curtis, his wife, and daughter are members of the Fredericktown Methodist Church and reside in Fredericktown.
Gina Harris, Rehabilitation Services Director
Gina brings with her over 19 years of experience as a practicing therapist. Gina earned her Master's Degree in Speech Pathology from The University of Akron and her BA in Speech and Hearing Science from The Ohio State University. Gina joined the Rehabilitation Services department at The Laurels of Hilliard in 2012. In addition to her experience in the field, she also has more than nine years' experience in management at both the facility level and regional level. Gina is also a mother to two children, Ben and Megan.