Exceeding Expectations at The Laurels of Mt. Vernon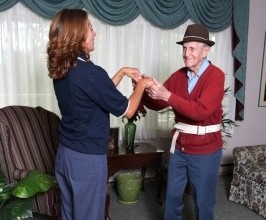 At The Laurels of Mt. Vernon, it is our mission to create a legacy by exceeding the needs and expectations of those we serve while embracing The Laurel Way. We understand that caring is more than providing excellent medical and guest services. It also includes being a companion and treating each guest with the utmost dignity, respect, and compassion.
"The Laurel Way of Caring" can be found in a warm smile, a kind word, or a comforting touch. We are passionate about our mission, and it is reflected in the letters we receive from guests and family members.
"There is no better place for therapy, and the therapists are wonderful to work with, and very friendly. After only three weeks at The Laurels, I am back at home in Fredericktown with a full recovery!"

Bernadine
"I could never imagine going anywhere else. My wife and I love all the staff, and highly recommend The Laurels of Mt. Vernon."

Frank
"I would highly recommend this place to anyone needing skilled nursing services. It has been a positive experience for me, and I am glad I came to The Laurels of Mt. Vernon!"

Margy
"I have nothing but great things to say about The Laurels of Mt. Vernon. If the whole world was run like your place, what a great and caring world it would be!"

Crystal
"I believe it is the best place in the county! It is wonderful, and everyone is as good as gold. They have become my second family. God willing, I will be able to spend a lot more time with them!"

Sam